Like past two years, this year also Socialist Party (India) Pune Unit celebrates Freedom Week from 9 August to 15 Augusts. 9 August is proudly celebrated as Quit India Day or Kranti Diwas across India. This year on 9th August, the great leap of our freedom Struggle, Quit India Movement, completed 75 years. On this occasion Socialist Party (India) and its affiliated organisations, Lokayat and Abhivyakti, participated in huge Quit India Day rally in Mumbai from Gowalia Tank Maidan to Azad Maidan organized by 'We the Socialists Institutions'. Neeraj Jain, National executive member SPI, Alka Joshi, Maharashtra State general Secretory SPI, Adv. Santosh Mhaske, Pune city President SPI were present at the occasion. More than 50 party workers were came to Mumbai from Pune to participate in the memorial rally. The rally culminated with a Sabha at Azad Maidan. On the same day party activists party participated in March for Science protests in Pune.
On 12th August Socialist Party (India) Pune unit organized the blood donation drive for National Intregration. Party Pune Unit organized the Blood Donation programme to spread communal Harmony more than 75 party workers and city dwellers successfully donated the blood. Many people, especially girls could not donate blood because of low hemoglobin or weight. Countercurrents.org covered the story on their website.
On the independence Day, SPI organized a talk on 'Seven Decades of Independence: Achievements, Challenges' by Prof. Salil Mishra, Professor of History, Ambedkar University, Delhi at SM Joshi Socialists Foundation, Navi Peth Pune. The program was a huge success. The auditorium was houseful. More than 300 people listened to Prof. Mishra.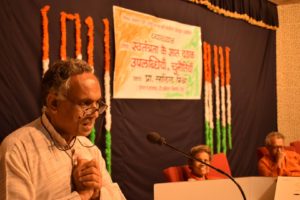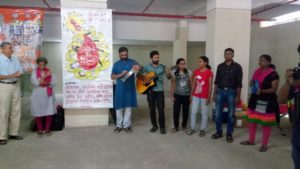 On the same day in the morning, SPI Pune Unit organized flag hoisting ceremony in Wadarwadi Basti. The flag hoisting was followed by a rally celebrating secular, socialists values of our great freedom struggle.