Socialist Party (India)
Delhi Office
11 Rajpur Road, Delhi – 110054
Phone/Fax : 110-23972745
Central Office
41/557 Lohia Mazdur Bhawan, Dr. Tufail Ahmad Marg, Narahi, Lucknow – 226001
Phone: 0522-2286423
Email: socialistpartyindia@gmail.com Web : www.spi.org.in
Blog: socialistpartyindia.blogspot.com
May 12, 2018
______________________________________________________________________________________________________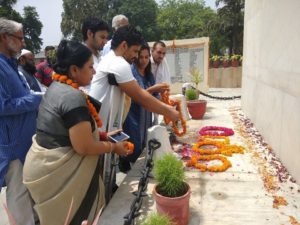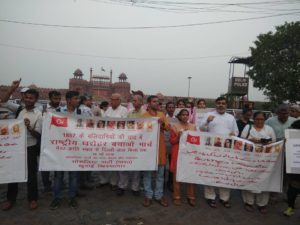 Press Release
'Save National Heritage March' held from Meerut to Delhi
Socialist Party (India) and Khudai Khidmatgar took out the 'Save National Heritage March' from martyrs' memorial Meerut to Lal Qila Delhi on May 10, 2018, in memory of the martyrs of 1857. Citizens of Meerut and Delhi participated enthusiastically in the March. In the morning on 10 May tributes were paid to Bhagat Singh, Rajguru and Sukhdev by garlanding their statues established in the campus of Chaudhary Charan Singh University. Tributes were paid to Dhan Singh Kotwal, a prominent local leader of the 1857 revolt, whose statue is establish in the city. After that people reached the martyrs' memorial and offered salute and tributes to the martyrs of 1857.
A seminar was organized on the topic 'Why the Revolution of 1857 should be remembered ' in the famous 'Freedom Fighter Mohammed Miyan House' of Meerut city. Speaking in the seminar as the key speaker senior journalist Arun Tripathi said that he Revolution of 1857 should be remembered to two basic goals – Hindu-Muslim unity and anti-imperialism. A discussion was also held at the Sheikh-ul-Hindu Academy, in which many speakers highlighted the importance of the revolutionaries 1857 and national heritage.
In the evening people traveled to Delhi while distributing pamphlets and addressing meetings on the way. Prominent citizens from all walks of life joined the March in Delhi. They marched from the Khooni Darwaza to Lal Qila raising slogans and distributing pamphlets. The 'Save National Heritage March' concluded at Lal Qila's main gate in the evening.
General public gathered in a large number at the venue. Dr. Prem Singh, president, Socialist Party, stated to the public that the Socialist Party, through a memorandum to the president of India, has repeatedly demanded that the mortal remains of Bahadur Shah Zafar be brought to Delhi from Rangoon and a huge memorial in memory of the martyrs of 1857 be built. He further said that the Socialist Party will launch a nationwide campaign against the government's decision of selling the national heritage to corporate houses. He also informed that the Socialist Party will hold a rally on the occasion of the Quit India Movement Day, 9th August, against the government.
Syed Tahseen Ahmad
Executive President
Delhi State
(Mobile: 9654079528)