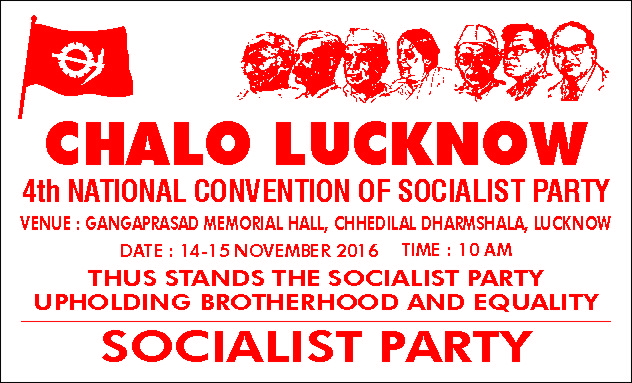 Socialist Party (India)
Central Office
41/557 Lohia Mazdur Bhawan, Dr. Tufail Ahmad Marg, Narahi, Lucknow – 226001
Phone: 0522-2286423
Delhi Office
11 Rajpur Road, Delhi – 110054
Phone/Fax : 011-23972745
Email: socialistpartyindia@gmail.com Web : www.spi.org.in
Blog: socialistpartyindia.blogspot.com
25 October 2016
Dear comrade
The 4th National Convention of Socialist Party (India) will be held in Lucknow (Uttar Pradesh).
Venue: Ganga Prasad Memorial Hall, Chhedilal Dharmshala, Lucknow
Date : 14-15 November 2016
Program
14.11.2016
Inaugural Session : 11.00 AM
Chair : Bhai Vaidya (National President)
Welcome Address : Janki Prasad Gaur (Chairman, Reception Committee)
Inaugural Address : Justice Rajindar Sachar
Speeches/Messages : Special Guests
Report : General Secretary
Vote of Thanks : Girish Pandey (Working National President)
Conduct of Program : Sandeep Pandey (National Vice President)
Lunch : 1.30-2.30
Second Session : 2.30 PM
Chair : Balwant Singh Kheda (National Vice President)
Open Session : Suggestions, Observations, Voluntary Contributions for Speedy Development/expension of Socialist Party
Conduct of Program : Tarkeshwar Singh (National General Secretary)
Tea : 5.00 PM
Cultural Program : 6.00 PM
15.11.2016
Third Session : 10.00 – 11.30 AM
Chair : Pannalal Surana (President, Parliamentary Board)
State-wise Report
Report : Socialist Yuvjan Sabha (SYS)
Report : Socialist Mahila Sabha (SMS)
Report : Socialist Mazdoor Sabha (SMS)
Report : Socialist Kisan Sabha (SKS)
Conduct of Program : Nurul Amin (National General Secretary)
Fourth Session : 11.30 – 1.30
Chair : Akhai Achumi (National Vice President)
Resolutions : Political, Economic, Education, Defense
Conduct of Program : S. Rajshekharan Nayar (Member National Executive)
Lunch : 1.30-2.30
Fifth Session : 2.30 – 4.30 PM
Chair : Faisal Khan (Organisation Secretary)
Announcement of New National Committee
Address by New President
Conduct of Program : Mohammad Shoaib (National Vice President)
Vote of Thanks : Dr. Shuchita Kumar/Janki Prasad Gaur
Tea : 4.30- 5.00 PM
Meeting of New National Committee 5.00-6.00
Note : The meeting of national executive will take place on 14 November 2016 at 10.00 AM. All members of NE are requested to attend the meeting.
All national/state office bearers, along with state-wise delegates, should reach the venue by the evening of 13 November or early morning of 14 November in order to make the national convention a grand success.
Kindly inform your travel plan to Janki Prasad Gaur (9532024994) and Girish Pandey (9415402311). You may also contact Mr. Saddam Ansari (8382962011) in the national office.
Prem Singh
General Secretary
Mobile : 8826275067
Janki Prasad Gaur
(President, UP/Chairman, Reception Committee)